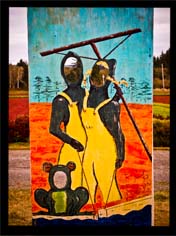 Due to the Governor's mandate, the museum is closed until Monday, January 18th, but our Gift Shop remains open.  Winter hours are Friday – Monday, from 10 am to 4 pm.      The outdoor self-guided tour is available from 8 am to dusk.
Welcome to the land of West Coast Cranberries.
Cranberries are as American as apple pie – in fact, even more so! Long before the Pilgrims arrived in 1620, and before Lewis and Clark walked these parts two centuries ago, Native Americans combined crushed cranberries with dried deer meat or salmon and melted fat to make pemmican – a convenience food that would keep a long time.
For maps and area information, visit the Long Beach Peninsula Visitors Bureau.