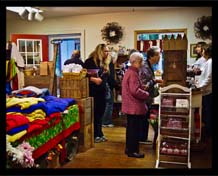 The Gift Shop at the Cranberry Museum features all things cranberry.  It's a great place to find locally made items and unique gifts.
Did you know that cranberry seeds are cold-pressed for their oil?  They have the perfect ratio of Omega 3, 6 and 9 fatty acids.  Available in a dropper bottle or a roll-on bottle to moisturize lips, eyelids, or anywhere you need it!  We also carry natural skin care items with cranberry seed oil added to lotions, soaps, hand sanitizer, exfoliant, scalp treatment, serums, and face mist.  All natural ingredients to benefit the skin.
We have a variety of Cranberry wines, candies, cookies, soaps and candles.  We also have many homemade items such as microwave bowl cozies, hand bags, un-paper towels and coasters. We feature Bog Frog T-shirts, mugs stickers and cards from local artist Don Nisbett.  Cranberry Peninsula T-shirts come in both long and short sleeve styles, and we have sweatshirts too.  Come and visit – we appreciate your support!