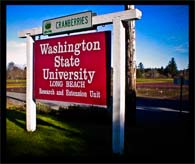 The Pacific Coast Cranberry Research Foundation was established in 1992 as a non-profit organization. Its goals are to
Help fund cranberry research and extension work on the West Coast of the United States and Canada.
Maintain a demonstration cranberry farm.
Produce cranberries on Foundation property to fund research and extension activities.
Provide an educational facility for tourists, local citizens, and schools.