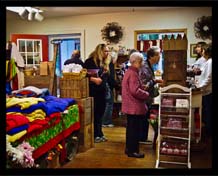 Are you looking for fresh cranberries?  Harvest time is here!  We have freshly picked berries in the cooler, and also in the freezer.  Stop by and pick some up for fresh salsa and salads, or for baked goods and relish.
You can find local honey here from the hives we rent in the spring to help pollinate the cranberries.  Delicious and unique!  Available in quart jars only.  To pay tribute to the honey bees, we have several bee items, including bowls, tea items, bee & blossom salt & pepper shakers, bowl covers, hive candles and bee jewelry.
The gift shop features all things Cranberry, from wines, candies, soaps and candles to homemade items such as microwave bowl cozies, hand bags, and un-paper towels. We have Bog Frog T-shirts, mugs and cards made by local artist Don Nisbett.  Cranberry Peninsula T-shirts come in both long and short sleeve styles.  Come and visit – we appreciate your support!