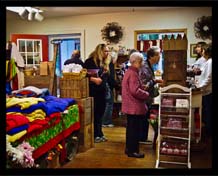 Are you looking for local honey?  We are now selling our honey from the hives we rented in the spring to help pollinate the cranberries.  Delicious and unique!  Available in quart jars only.  To pay tribute to the honey bees, we have several new items, including bowls, tea items, bee & blossom salt & pepper shakers, bowl covers, hive candles, bee jewelry, and even bee face coverings.
The gift shop features all things Cranberry, from wines, candies, soaps and candles to homemade items such as microwave bowl cozies, hot pads, and un-paper towels.  We have unique, locally handcrafted baskets woven from cranberry vine runners.
Something new this year are Tanka bars, based on the ancient indigenous art of using fruit to preserve meat, also called Pemmican.  Tanka is buffalo and cranberries, made by Native Americans in South Dakota.
We have Bog Frog T-shirts, mugs and cards made by local artist Don Nisbett.  Cranberry Peninsula T-shirts are also new this year, in two different styles  Our newly-designed sweatshirts have arrived, one has a map of the peninsula on the back, the other is the P.C.C.R.F. embroidered logo.  Come visit us and check out our new items!  We appreciate your support.